Ich wollte in letzter Zeit schon öfter mal wieder schreiben, allerdings bin ich jedesmal wenn ich anfing, komplett verwirrt gewesen wo ich überhaupt anfangen soll.
Lets do it Step by Step.
Italien und Italiener.
Auch wenn der norden Italiens Deutschland schon ziemlich ähnelt, merkt man schnell das man in einem anderen Land ist. Doch die richtigen Unterschiede werden einem erst im Süden klar. Zuerst muss ich sagen, es ist einfach wunderschön hier. Nicht nur die Landschaft die mich umgibt, auch eine abendliche Veranstaltung findet automatisch in einer bezaubernden kleinen Stadt statt. Jedes mal wenn ich glaube mich daran zu gewöhnen, entdecke ich etwas neues, was mich begeistert.
Und was die Menschen hier unten einfach großartig. Viel Sonne scheint der menschlichen Psyche tatsächlich äußerst gut zu bekommen. Die Leute sind relaxt, offenherzig und saufreundlich.  Das einzig wirklich negative: Italiener sind NIE pünktlich, was aber gar nicht mal schlimm ist den a) man gewöhnt sich recht schnell daran und kann sich anpassen und b) findet egal wo immer jemanden mit dem man sich unterhalten kann.
Erasmus.
Since i don't know if even some people from them might read this it's gonna be written in english. If i got introduced to Italy by my family at first, they made me arriving here completly. So all i got to say is Thank you and i hope this great time will continue.
Sprache.
Das ist eines der witzigsten Dinge! An normalen Tagen denke ich mittlerweile komplett in Englisch und hin und wieder ein wenig Deutsch und Italienisch. Mein Italienisch wird von Tag zu Tag sicherer, auch wenn ich mich die meiste Zeit in Englisch unterhalte. Doch wenn sich das alles mischt kann es hin und wieder zu sehr unterhaltsamen Gesprächen führen.
Mit dem Tag am Meer.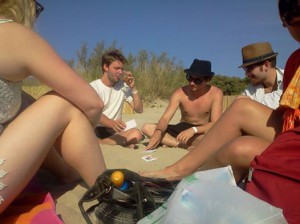 Erwähnenswert. Ich war mittlerweile schon drei mal am Strand und es ist jedes mal aufs neue großartig. ich kam zwar nie ohne Sonnenbrand zurück, aber da ich mich auch nie geschält habe, bin ich jetzt fast komplett Braun.
Sechs Kilometer nördlich.
Ja, die Entfernung zu Stadt war am Anfang ein unglaubliches Hindernis. Der letzte Bus zurück aufs Land, fährt um 20:00 Uhr. Aber durch das Fahrrad hat sich das nun fast in Luft aufgelöst. Und als kleinen positiven Nebeneffekt gibt ne Stunde Sport am Tag gratis.
Das Haus.
Tja, die arbeiten am Haus haben in letzter Zeit wohl am meisten gelitten. Da ich viel Unterwegs bin komme ich kaum dazu wirklich ernsthaft zu arbeiten, ABER das erste Haus ist fertig sortiert. Jetzt kommen Garage und Garten dran! Und ich hoffe euch allen eine schon fertige Feuerstelle präsentieren zu können, sobald ihr eintrefft. Mit dem Pool wird es wohl leider erstmal nichts, aber das Meer ist ja nur 5 km weit weg und das macht sogar noch ein wenig mehr Spaß.
Bei Risiken und Nebenwirkungen fragen sie ihren Arzt oder Apotheker, ansonsten wünsch ich auch euch allen eine so wunderbare Zeit, wie ich sie gerade erlebe. Danke an alle die das möglich gemacht haben!
P.S. Postkarten sind gekauft und werden nun beschrieben, lasst das Massaker beginnen.